Sjekkliste for deg som vil bli kunstner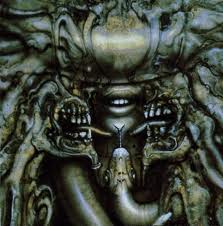 Jeg har tidligere nevnt den sveitsiste kunstneren H.R. Giger her på Kollektivet.no. Mannen lager fasinerende, bisarr og veldig mørk kunst som i følge et intervju jeg leste av ham en gang er inspirert av hans egne mareritt og drømmer. (At mannen selv kunne vært hentet ut av mine mareritt er en annen sak…) Sånn sett er det vel rett å kalle ham en surrealist. Han er ellers kjent for å ha stått bak bl.a. designet på Alien-filmene, noe som hans offisielle nettsider vier stor plass.
Nettsidene har også en sjekkliste for de som ønsker å bli kunstnere. Den er ganske facinerende lesning, og jeg tok en sjekk for å se om jeg i følge den også er en kunstner.
Dear Aspiring Artist:
Here is my advice. Think of it as a five-year plan:
Take whatever courses you find the most interesting.
Hm, lenge siden jeg har vært på noe kurs av noe slag. Fail!
Study closely the work of the Old Masters.
Det har jeg gjort. Check!
Stop making art that originates only from your own imagination.
Jeg gjør begge deler, sååå… Check!
Stay with one technique until you perfect it.
Naaah… Ok, jeg jobber stort sett med blyant og tusj. Men perfeksjonert det? Nei desverre. Perfekt blir det aldri. Fail!
On any given day, always be in the middle of reading a book. When you finish one, start the next. Fiction, nonfiction, biographies, autobiographies, history, science, psychology, or how to build a kite. Anything but go easy on the comic books.
Søren… Leser for lite. Inkludert tegneserier. Allikevel, Fail!
Buy and read the first 6 pages of newspaper every day and also the editorial commentaries. Skip the entertainment section. Su Doku is fine. Do the crossword puzzle.
Jeg leser mye aviser. Men desverre leser jeg underholdningen også, og sudoku og kryssord er ikke min greie. Søren. Fail!
Fill up a sketchbook every month with pen or pencil drawings of the world around you, not from your imagination.
Dette er et mål, men jeg er ikke der enda gitt. Fail!
Buy a book on figure drawing. It's the only art book you will ever need.
Den kjøpte jeg for lenge siden. Nå har jeg endel andre kunstbøker også, men allikevel: Check!
Until you can draw an accurate portrait of someone, you don't know how to draw.
Jo faktisk. Jeg kan lage ganske bra portretter. Det betyr altså at jeg kan tegne? Flott! Check!
Stay away from the airbrush. You'll never master it, hardly anyone ever has.
Har prøvd et par ganger, og nei – jeg ble aldri flink. Check!
Visit every museum in your city. Often, until you have seen everything in it. Every kind of museum. Not only the art museums but, of course, those as well.
Lite museum i Volda. Adskillig flere i Bergen. Men jeg liker å gå på museum, så jeg jukser litt her, og sier Check!
Forget about contemporary art by living artists, at least for the next few years.
Tja… Mye moderne kunst er jo stilig, og mye er ræl. Men jeg har holdt på med tegning så lenge at dette blir vel akseptert. Check!
Stay away from most art galleries. Go to art auctions. That's where the real action is.
Kunstauksjon har jeg aldri vært på. Fail!
Learn to play chess.
Det kan jeg, men er ikke flink. Så Check!
Take a business course.
Hæ? Fail!
Talk to you mother or father at least once a week.
Øøøh… Check, tror jeg.
Stop going to the movies until you have rented and seen every film on this list.http://www.time.com/time/2005/100movies/the_complete_list.html
Har desverre ikke sett alle på lista, men går på kino allikevel. Fail!
Do not watch television unless it's the news or documentaries.
Hm, ser faktisk helst nyheter og dokumentarer, og ikke så mye anna. Som regel. Så jeg er snill med meg selv og sier Check!
Do not use an Ipod.
What? Fail!
No video games, either.
Uh? Fail!
Learn a foreign language.
Kan engelsk, og bittebittebittelitt fransk.. Holder det? Check!
Learn to cook.
Check!
Spend 8 hours in a hospital emergency room.
Eh, som pasient eller? Ikke? Søren… Fail!
Save up money so you can travel to a foreign country within the next five years.
Check!
Do not litter.
Bruker søppelbøtter når de er der. Check!
Avoid politically correct people.
Søren… Det kan hende jeg har blitt sett sammen med dem av og til.. Fail!
Vote in every election or never dare to utter a political opinion. You are not entitled to one.
Stemmer ved hvert valg. Check!
Buy a digital camera and take photos every day.
If you see nothing interesting to photograph, you will never be a good artist. Keep only one photo of every ten you take. Delete the rest. It will force you to learn how to edit the garbage from your life, to make choices, to recognize what has real value and what is superficial.
Jeg tar masse bilder, men kanskje ikke på denne måten.. Hmm… Fail!
Visit an old age home.
Check!
Listen to classical music and jazz. If you are unable to appreciate it at least as much as contemporary music, you lack the sensitivity to develop into an artist of any real depth.
Joda, kan høre på det aller meste. Check!
Go to the ballet. Classical or Modern, it doesn't matter. It will teach you to appreciate physical grace and the relationship between sound and movement.
Har sett småjentene mine på barneballett. Så det holder sikkert. Check!
Wake up every morning no later than 8 AM, regardless of what time you went to sleep.
I hverdagene er jeg oppe før åtte. I helgene…nei. søren. Fail!
Learn to play a musical instrument.
Lærte en gang tre grep på gitaren. Check!
Learn to swim.
Check!
Keep your word.
Shait. Der har jeg feila endel ganger. Fail!
Never explain your art. People who ask you to do so are idiots.
Good point! Check!
Never explain yourself. Better yet, never do anything that will, later, require you to explain yourself or to say you're sorry.
Hm, vettasøren om dette egentlig er noen god regel. Aldri si unnskyld? Hvem søren er perfekte?? Fail big time!
Always use spell check.
Eh, tja… Fail!
Stop aspiring and start doing.
Check!… stort sett.
This will keep you very busy but it can't be helped.
In my opinion, this is how you might, possibly, have a shot at becoming a good artist.
Vel, hva kan man si? Mange Fail her gitt… Altså er jeg ingen kunstner. Nope. Jeg er serietenger. Godt nok for meg.